Are you having problems with your retractable screen door?  We are a professional screen company that specializes in custom screen jobs.  Retractable screen doors should be worked on with special care and re-screening them is our specialty.
Rescreening of retractable screen doors is something we have been doing for years. The screen mesh available for screen doors are pet screen, solar screen, sun screen and regular fiber glass screen.
We would be happy to answer any questions you may have on screens for your home just give us a call or e-mail us anytime.
Retractable hardware for doors is also available if you need it.  Most of these jobs are custom and we need to take a look first to make sure we can get the door hardware your door needs.
Welcome to Complete Screens, San Fernando Valleys fabricator of custom made, handcrafted, Wood sliding Screen Doors and Wood Swinging Screen Doors.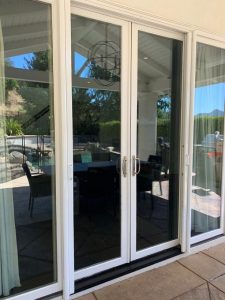 Yelp Review
"Both of the gentlemen with complete screens who came to make and install our screens were FABULOUS! They are considerate and cost effective. We are so happy with their professionalism and we had several odd sized and complicated windows. YES we highly recommend!!! Susan C.
Malibu, CA. Yelp 5.0 star rating 3//2020
Are you having problems with your retractable screen door? We are a professional screen company that specializes in custom screen jobs. We install and repair custom made screen doors
Complete Screens installations in Malibu, Calabasas, Hidden Hills and surrounding areas
COMPLETE SCREENS CSLB# 944234 BONDED